The Benefits of Using Professional Drones in Business Operations
There are numerous advantages that come with incorporating professional drones in business operations, especially in the current era of technology. Here are some of the top benefits of using professional drones:
Cost-Effective: Drones can help companies reduce operating costs by replacing traditional methods such as hiring an aerial photographer or using a manned aircraft for all operations. Professional drones are significantly cheaper and can complete tasks in much less time.
Efficient: With the right drone, businesses can complete tasks much faster and more accurately, which can lead to better productivity and output. They can also efficiently cover large areas and access hard-to-reach locations, such as rooftops, towers, or remote areas, saving time and costs.
Increased Safety: Professional drones can significantly reduce the dangers and risks of traditional methods of surveying, inspection, and maintenance. Companies now can remotely inspect certain assets such as power lines or oil rigs, where dangers of human injury or even death can occur.
Higher Quality Data: With the right drone, businesses can produce much higher quality data and imagery. They can capture high-resolution photos and videos, providing a much better view of the site or asset being monitored, which can lead to more informed decisions and less human error.
Customizable: There are numerous types of drones available on the market, each serving a specific purpose. Companies can customize their drones to meet specific business needs, such as payloads suited for mapping or detecting gas leaks.
New Opportunities: The use of professional drones in business operations presents new opportunities for companies to expand their services and scale up their operations. With the right strategy, they can gain a competitive advantage and tap into new markets.
Overall, using professional drones in business operations can significantly enhance a company's efficiency, safety, and productivity.
Top Features to Look for in a Professional Drone for Commercial Use
When it comes to professional drones, there are a lot of options out there. But not all drones are created equal, especially when it comes to commercial use. Here are the top features to look for in a professional drone for commercial use:
Flight Time and Battery Life
One of the most important features to consider is flight time and battery life. This is especially important for commercial use, where you may need to cover a large area or take multiple shots in one flight. Look for drones with a flight time of at least 20-30 minutes and batteries that can be easily swapped out if needed.
Camera and Gimbal
The camera and gimbal are also important features to consider, particularly if you plan to use the drone for photography or videography. Look for drones with high-quality cameras that are capable of capturing high-resolution images and videos. A 3-axis gimbal is also important to stabilize the camera and ensure smooth footage.
Obstacle Avoidance
Obstacle avoidance is another important feature to consider for commercial use. This feature can help prevent accidents and protect the drone from damage. Look for drones with obstacle avoidance sensors that can detect obstacles in all directions.
Range and Signal Strength
Commercial use requires a drone with a long range and strong signal strength. This is especially important if you need to fly the drone in remote locations or areas with poor signal strength. Look for drones with a range of at least 4-5 miles and strong signal strength.
Intelligent Flight Modes
Intelligent flight modes can make flying a drone much easier, especially for beginners. Look for drones with features like follow me, waypoint navigation, and return-to-home. These features can help you capture shots more easily and safely.
Overall Build Quality
Finally, consider the overall build quality of the drone. Look for drones that are made from durable materials and are well-constructed. A high-quality drone will be more resistant to crashes and damage, which can save you money in the long run.
By considering these features, you can find a professional drone that is ideal for commercial use and can help you capture stunning aerial footage.
Exploring the Diverse Applications of Professional Drones in Modern Industries
Professional drones have revolutionized the way industries work across the world. These drones or unmanned aerial vehicles (UAVs) are equipped with state-of-the-art technology that allows professionals to perform tasks that were previously impossible.
Here are some of the industries that have been transformed thanks to professional drones:
Agriculture
Drones are revolutionizing the agriculture industry by providing farmers with the tools to improve crop yields, reduce crop damage, and optimize production. Professional drones fitted with cameras and sensors can provide detailed images of crops, allowing for precision agriculture. This enables farmers to detect crop disease, monitor plant health, and assess soil conditions.
Construction
Drones have become an essential tool in the construction industry. They have the advantage of being able to capture aerial footage of construction sites, provide accurate height and volume measurements, and even create 3D models. This helps to identify design flaws, identify safety issues, and monitor progress.
Inspection and Surveillance
Drones can be used for inspection and surveillance in a range of industries, including oil and gas, energy, telecommunications, and transportation. Inspections of pipelines, power lines, bridges, and wind turbines that used to require expensive and dangerous manned flights, can now be done by drones. Drones equipped with cameras, sensors, and geo-tagging can capture high-resolution images and create maps that help identify potential issues before they become problems.
Search and Rescue Operations
Professional drones have also found applications in search and rescue operations, emergency response, and disaster management. They can quickly search a large area and help locate missing persons, monitor disaster areas, and deliver essential supplies.
Media and Entertainment
Drones have also found a place in the media and entertainment industry. They can be used to capture stunning aerial shots for films, TV shows, and commercials, and provide a fresh perspective for events such as concerts and sporting events.
In conclusion, professional drones have transformed the way industries work by providing new and innovative ways to monitor, inspect, and assess various processes. They have helped increase efficiency, reduce costs, and improve safety in several industries, making them a critical tool in modern business.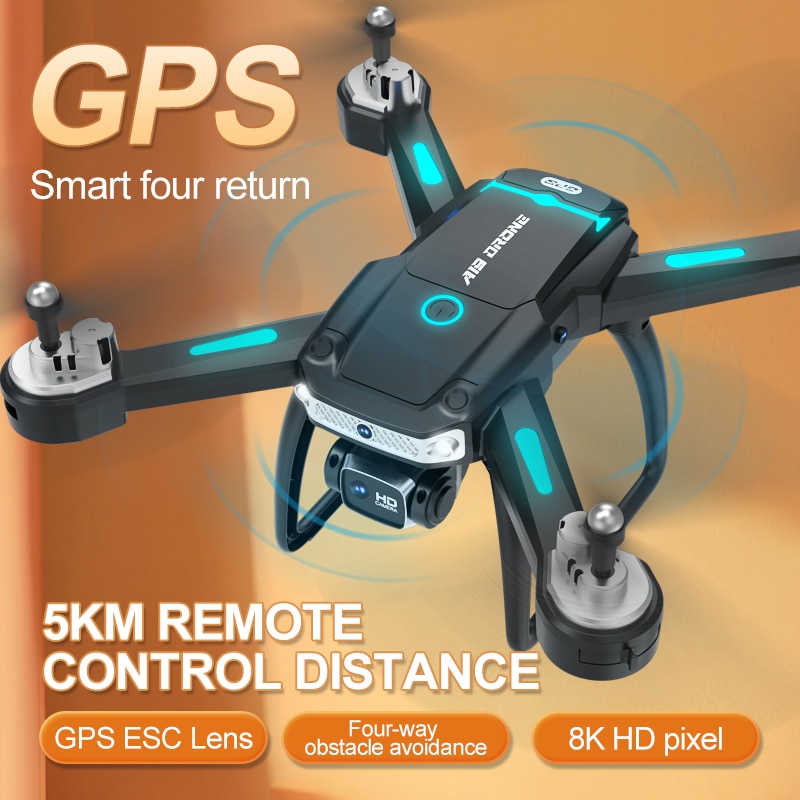 5G GPS Professional Drone with 8K Camera
Experience breathtaking aerial views with our cutting-edge 5G GPS Professional Drone capturing stunning 8K visuals
Product information
Product Review Score
4.66 out of 5 stars
117 reviews