The Evolution of Drone Batteries: From NiCad to Lithium Polymer
Over the past few decades, the technology used in drone batteries has undergone a significant transformation. Earlier, drones were powered by Nickel Cadmium (NiCad) batteries, and now they use Lithium Polymer (LiPo) batteries. This evolution has brought about a tremendous increase in the performance and reliability of drone batteries.
NiCad Batteries
NiCad battery technologies were widely used in the early days of drone technology. These batteries were known for their high power output, durability, and low weight. However, they had many limitations that made them difficult to use for drone applications.
One of the major issues with NiCad batteries was their low energy density. This meant that they had a limited amount of energy stored in them, making them unsuitable for long-range flights. Moreover, they were known for their memory effect, which means that after a few full cycles of discharge and recharge, they would start losing their maximum capacity.
Due to their low energy density, NiCad batteries were gradually replaced by newer technologies, which could offer better performance and reliability.
Lithium Polymer Batteries
Today, drone batteries are made using Lithium Polymer (LiPo) technology. LiPo has a higher energy density than NiCad batteries, which means that they can store more energy, making them ideal for longer flights.
LiPo batteries are also much lighter than their NiCad counterparts, which makes them easier to use in drones. Moreover, LiPo batteries have a higher discharge rate than NiCad batteries, which allows them to deliver power more quickly when needed.
Another key advantage of LiPo batteries is their lack of memory effect. Unlike NiCad batteries, they do not lose their maximum capacity after a few discharge and recharge cycles. Additionally, LiPo batteries have a minimal self-discharge rate, which means they can retain their power even when not in use for a long time.
The Future of Drone Batteries
As technology advances, there is scope for further improvements in the design of drone batteries. For example, some researchers are working on developing solid-state batteries, which could offer even higher energy density and be safer to use than current LiPo batteries.
Moreover, scientists are also investigating the use of other materials like graphene, which could help in developing more efficient and powerful drone batteries. The development of better drone batteries could significantly expand the potential use cases for drones, enabling them to deliver better performance in applications ranging from agriculture to search and rescue missions.
In summary, the evolution of drone batteries from NiCad to LiPo has been a significant advancement. LiPo batteries offer higher energy density, are lighter, and more reliable than their NiCad counterparts. With future advancements on the horizon, we can expect drone batteries to become even more efficient, versatile, and capable of powering an ever-expanding range of drone applications.
Understanding Drone Battery Capacity: How to Choose the Right Battery for Your Needs
When it comes to flying drones, having a reliable and long-lasting battery is essential. The capacity of a drone battery determines how long the drone can stay in the air. Understanding the capacity of a drone battery is crucial when choosing the right battery for your needs. In this article, we'll take a closer look at drone battery capacity and how to choose the right battery for your drone.
What is Drone Battery Capacity?
Drone battery capacity is the amount of energy that a battery can store and deliver to power the drone's motors. This capacity is measured in milliampere-hours (mAh). As a general rule, the higher the mAh rating, the longer a battery will last before needing to be recharged.
It's important to note that not all drone batteries are created equal. Even batteries with the same mAh rating can differ in terms of quality and performance.
Factors Affecting Drone Battery Capacity
Several factors affect the capacity of a drone battery. The most significant factor is the size and weight of the drone. Larger and heavier drones require batteries with higher capacities to keep them flying for long periods.
The type of flying you plan to do also affects battery capacity. If you plan to do acrobatic maneuvers that require sudden bursts of power, you'll need a battery with a higher C-rating. This rating refers to the maximum safe discharge rate of the battery.
The temperature also affects the capacity of a drone battery. Extreme temperatures can cause a battery to lose capacity and degrade faster, so it's important to fly your drone in moderate temperatures.
Choosing the Right Battery for Your Drone
When choosing a battery for your drone, it's important to consider the factors we've discussed. Here are some tips to help you choose the right battery for your needs:
Check your drone's specifications to see what battery capacity it requires.
Consider the type of flying you plan to do and choose a battery with a suitable C-rating.
Choose a reputable brand with a track record of producing high-quality batteries.
Consider purchasing spare batteries to ensure longer flying time.
Store your batteries in a cool, dry place when not in use to prolong their lifespan.
By following these tips, you'll be able to choose a drone battery with the right capacity to meet your needs. Remember that the quality and performance of the battery are just as important as its capacity, so don't sacrifice quality for capacity.
Caring for Your Drone Batteries: Tips for Maximizing Battery Life and Performance
As a drone owner, one of the most important aspects of your device is the battery. Without it, your drone would not be able to stay in the air for more than a few minutes. But to ensure that your drone batteries last as long as possible and give you the best performance, it is crucial to take good care of them.
Tip #1: Charge Your Batteries Properly and Take Breaks Between Flights
While it may be tempting to just plug your drone battery in and let it charge for as long as possible, this can actually be damaging to the battery's lifespan. Instead, make sure to follow the instructions that come with your drone and charge your batteries for the recommended amount of time. It is also important to take breaks in between flights to allow your batteries to cool down and avoid overheating.
Tip #2: Store Your Batteries Correctly
When not in use, it is important to store your drone batteries in a cool, dry place away from direct sunlight. Avoid storing your batteries fully charged or fully depleted, as they can become damaged over time. Instead, store them at around 50% charge.
Tip #3: Keep Your Batteries Clean
Make sure to clean your drone batteries regularly to prevent any dirt or debris from getting inside and potentially damaging the battery. Use a clean, dry cloth to wipe down the battery and avoid using any harsh chemicals or liquids.
Tip #4: Replace Your Batteries When Necessary
Even with proper care, drone batteries will eventually reach the end of their lifespan. Make sure to keep track of how long you have been using your batteries and replace them when necessary to ensure that your drone continues to function properly.
By following these tips and taking good care of your drone batteries, you can maximize their lifespan and performance and get the most out of your drone.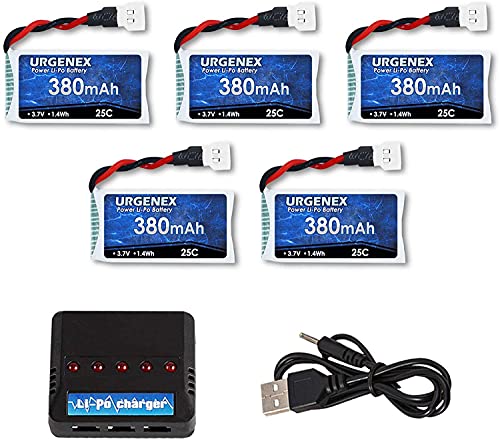 5 LiPo Batteries with Charger for Drones
Product information
£16.99 £15.99
Product Review Score
4.35 out of 5 stars
41 reviews