The Advancements of Camera Drones: A New Era of Aerial Photography
Camera drones have come a long way since their inception. Initially used for military purposes, they have now become an essential tool for many photographers and filmmakers. The technological advancements in camera drones have made aerial photography easier, more accessible, and affordable than ever before.
Improved Stability and Control
One of the most significant advancements in camera drones is the improvement in their stability and control. Previously, drones struggled with maintaining their stability, especially when dealing with harsh weather conditions or strong wind gusts. Thanks to advances in technology, modern camera drones can now maintain their position at different altitudes, even in windy conditions, thanks to their advanced stabilization systems, including GPS, gyroscopes, and accelerometers.
High-Quality Cameras
The quality of camera drones has exponentially improved over recent years. Nowadays, drones come with cameras capable of capturing high-resolution images and videos. These cameras offer a multitude of video and photo options, including 4K or ultra-high-definition video, slow-motion capture, and even RAW image capture.
Enhanced Safety Features
Modern camera drones now come equipped with enhanced safety features. Collision avoidance technology, powered by optical sensors and obstacle avoidance systems, helps prevent crashes and keep drones and people safe. Furthermore, GPS tracking helps with tracking and retrieving lost drones.
Simplified Flight Controls
Flight controls for camera drones used to be complicated, requiring a lot of time and skill to master. Nowadays, camera drones come with simplified flight controls, allowing first-time users to take complete control of their drone quickly. The inclusion of intelligent flight modes helps even further simplify the process, offering automatic takeoff, landing, and even follow-me capabilities.
Increased Affordability
Initially, camera drones were reserved for those with deep pockets, but that has changed. The increased competition in the market has made camera drones more affordable and accessible than ever before. The availability of consumer-grade drones has led to a lower price point and increased options for beginners and professionals alike.
In conclusion, the advancements in camera drones have revolutionized the world of aerial photography. With improved stability, high-quality cameras, enhanced safety features, simplified flight controls, and increased affordability, there has never been a better time to invest in a camera drone.
How Camera Drones are Revolutionizing Industries Such as Real Estate, Agriculture and Construction
Camera drones, also known as unmanned aerial vehicles (UAVs), have become increasingly popular in recent years. They have proven to be an incredibly versatile tool for a number of industries, especially real estate, agriculture, and construction.
Real Estate
Camera drones are changing the way real estate professionals market properties. In the past, buyers had to rely on traditional photographs and panoramic shots to get a sense of a property's layout and condition. With camera drones, however, agents can capture stunning aerial views of properties that simply wouldn't be possible with traditional photography. This provides potential buyers with a much more comprehensive understanding of a property, and can even help to sell homes faster.
Agriculture
Camera drones are also revolutionizing the way farmers operate. In the past, farmers had to rely on guesswork and manual labor to get an accurate reading of crop health and soil conditions. With camera drones, however, farmers can quickly and easily scan large areas of land and get real-time information on crop health and irrigation needs. This not only saves time and money, but can also lead to more efficient and sustainable farming practices.
Construction
Camera drones are also making waves in the construction industry. Drones can provide project managers with a bird's eye view of a construction site, allowing them to better monitor progress and identify potential issues before they become major problems. Additionally, drones can be used to conduct safety inspections and to help guide heavy machinery in tight spaces, making construction sites safer and more efficient.
All in all, camera drones are providing incredible value to a number of industries. As drone technology continues to advance, we can only expect these benefits to grow.
The Rules and Regulations You Need to Know Before Flying Your Camera Drone
Before you take to the skies with your camera drone, it is crucial that you are aware of the rules and regulations surrounding drone flying. Here are some of the most important things you need to know:
1. Follow FAA drone regulations
In the United States, all drone pilots must register their drones with the Federal Aviation Administration (FAA). It is also essential to follow FAA regulations, including flying below 400 feet, maintaining visual line-of-sight, and avoiding airports and other no-fly zones.
2. Respect the privacy of others
When flying your drone, you must also be mindful of people's privacy. Do not fly over other people's property without their consent, and avoid filming individuals without their explicit permission.
3. Follow local laws and guidelines
Different states may have their laws and guidelines surrounding drone flying, such as restrictions on flying near public spaces or events. Make sure to research and comply with any local laws before operating your drone.
4. Use common sense
Finally, operating a drone requires common sense. Do not fly your drone in dangerous conditions or near obstacles, and do not operate it recklessly. Be aware of your surroundings and take responsibility for ensuring the safety of those around you.
By following these rules and regulations, you can enjoy the unique perspective that only camera drones can offer while maintaining the safety and respect for others.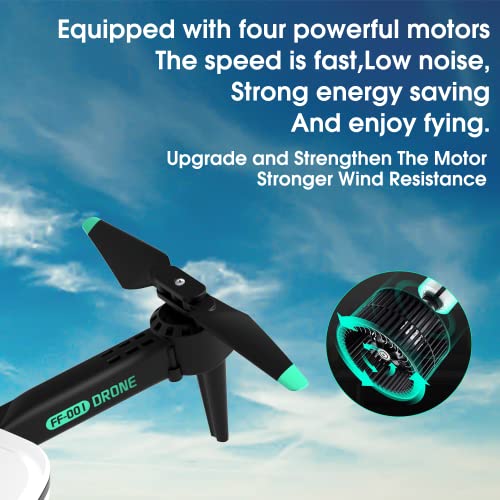 4K Camera Drone with Gesture Control
Capture Breathtaking Footage with Easy Hand Movements: 4K Camera Drone with Gesture Control
Product information
£79.99 £59.99
Product Review Score
4.3 out of 5 stars
196 reviews